Woodside Park is a world-class thoroughbred operation in Victoria. It is Victoria's largest breeding operation with our flag bearer being one of Australia's leading sires in Written Tycoon.
Joining the five-time Champion Victorian Sire is the Group 1-winning and Group 1-producing sire Foxwedge, Tosen Stardom, the dual Group 1-winning son of world Champion sire Deep Impact plus Invincible Spirit's Group 1 performer Cable Bay and Written Tycoon's fastest son at stud, Rich Enuff.
It has 1000 acres of quality pasture in Nagambie, ideal for growing and preparing bloodstock which is primarily dedicated developing and preparing yearlings and the spelling of bloodstock.
With its highly experienced teams and state of the art facilities, Woodside Park Stud is a first-class breeding operation.
MORNINGSIDE
The jewel of the North East Thoroughbred region of Victoria, Woodside Park Stud's Morningside is a world-class property with a history the envy of any thoroughbred breeder.
With kilometres of Goulburn river frontage, the 1000 acre, irrigated property contains multiple stable complexes, with a large expansive horse walker, sand roll and numerous spacious and safe paddocks to raise champion racehorses.
With over 30 individual Group 1 winners of just shy of 60 world-class Group 1 races including the Melbourne and Caulfield Cups, Oakleigh Plate, Emirates Stakes, Hong Kong Cup, Australian Cup, Caulfield Guineas, Cox Plate, CF Orr Stakes and many, many more, grazed on the property, Morningside has a proven record of success, one that is set to continue well into the future.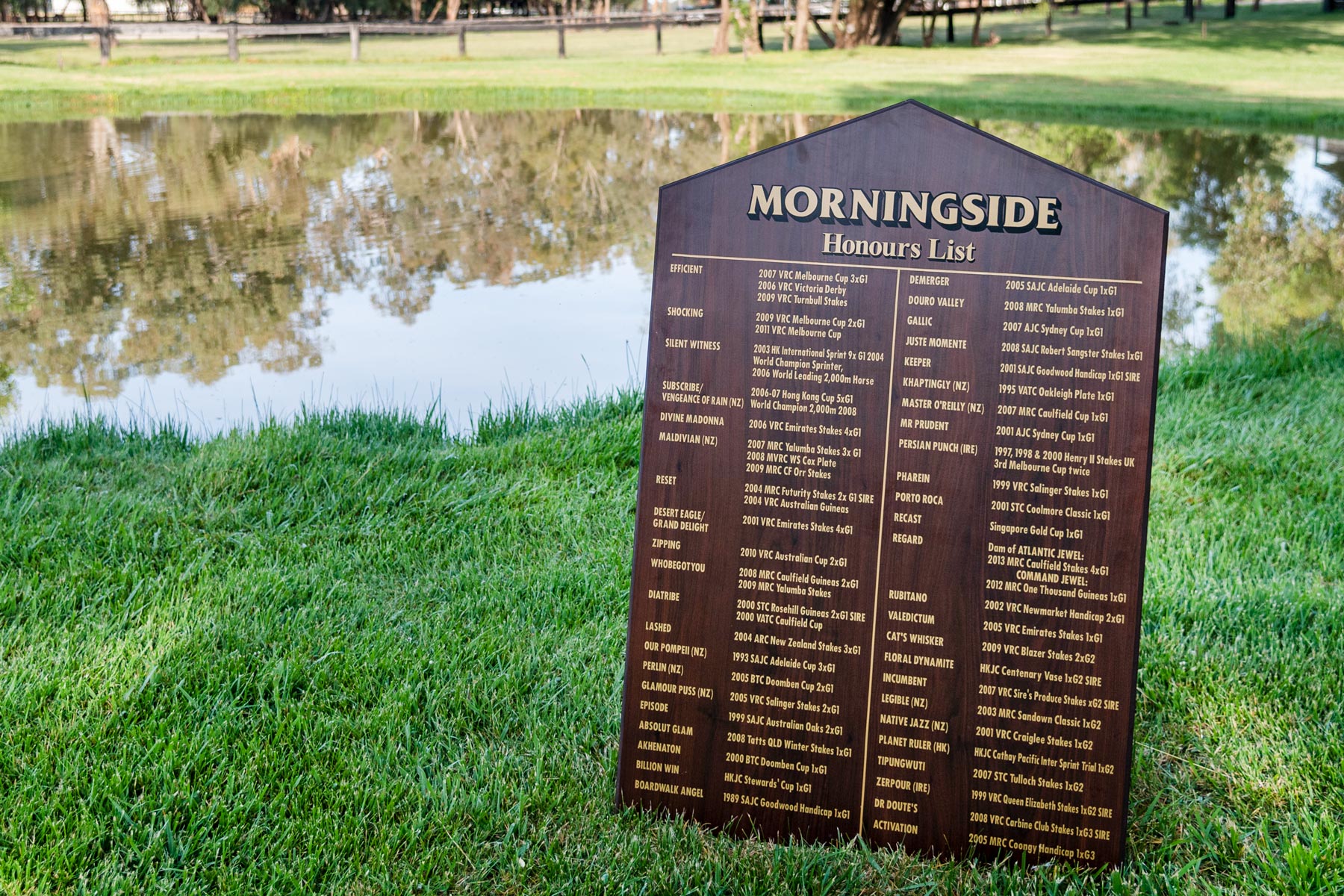 TYLDEN
Home of Woodside Park's pre-eminent stallions, Written Tycoon, Foxwedge, Tosen Stardom, Cable Bay and Rich Enuff, the stud is the heart of Woodside Park's breeding operations.
Our beautifully appointed stud farm was developed to provide the best possible facilities for our stallions and mares and the bloodstock of our clients, and they include:
Stallion barn
Covering barn
Foaling unit
Foaling tower
Separate veterinary facilities for foaling and covering
Day yards
Spacious and beautifully laid-out paddocks
Events centre
The stud is managed by experienced stud manager Ben Gunn, who lives on-site and has a very hands-on approach, closely working with the horses, stud staff and service providers to ensure horses conceived and born at Woodside Park have the best possible start to life.
BREEDING
At our state of the art facilities we provide the very best veterinary attention and experienced staff to ensure sound pregnancies and happy and healthy mares and foals. There are several options to get your mare in foal
Resident – mare is prepared for cover at our stud and may remain on-site for the duration of her pregnancy, including foaling down
Walk In – mare comes to the stud to be covered and leaves straight after
Walk Out – our stud staff walks your mare in to another stud, this service is only available under special circumstances
Foaling Down – mares are watched closely throughout their pregnancy and observed 24/7 by a trained foal watch person/s in the weeks leading up to her due date. Once the foal is on the ground it receives the very best of care and attention. The stud manager will contact the owner as soon as the foal is born, or first thing in the morning if the foal in born throughout the night.
AGISTMENT
Seasonal or year-round for all horses including mares, foals, weanlings, yearlings and spellers. With limited spots available at the stud we encourage you to contact a local boarding farm that specialise in broodmare agistment.
MARK ROWSTHORN
Owner
MARK ROWSTHORN
Owner
Mark assumed responsibility for Woodside Park Stud in 2012 taking over from his father Peter Rowsthorn. Having gained great experience from his long career in the business world, Mark offered to take over the business with a view to changing its focus from racing to breeding and looked to further capitalise on the world class facilities built by his father. Over time he invested heavily into stallions which included the purchase of Victoria's leading sire Written Tycoon. Since his involvement with the business, Woodside has experienced a major turn around and is now the leading stud and breeding operation in Victoria and competes with some of Australia's most successful stud farms.
DAVID JACKSON
Executive Chairman
DAVID JACKSON
Executive Chairman
David joined Woodside in 2018. He is an experienced senior executive who has spent a 20 year plus career at one of Australia's leading logistics companies, Toll Holdings. David has had a long term interest in both horse breeding and racing and has owned a number of mares and racehorses over many years. As Executive Chairman, he assists Mark Rowsthorn with the overall management of the business and plays a key role in developing and delivering the strategic operational and investment objectives of the business. In addition to being a key leader of the business he also chairs the Woodside Advisory Board.
WILL ROWSTHORN
Farm Manager, Morningside
WILL ROWSTHORN
Farm Manager, Morningside
Will joined Woodside in 2016 and since then has developed a vast knowledge of the thoroughbred industry.  Having spent a number of years in the agricultural sector, Will has developed extensive experience in managing farms and dealing with livestock, predominately sheep and cattle.  He has a Bachelor of Business (Agriculture) from Marcus Oldham College and since joining Woodside he has progressed to being a senior leader of the business having overall responsibility for the growing out and spelling farm at Morningside which includes weanling and yearling preparations for sales.
MATTY UPTON
Weanling and Yearling Manager
MATTY UPTON
Weanling and Yearling Manager
Matty joined Woodside Park in 2012 after spending many years working at horse training facilities.  Matty became Peter Sidwell's private trainer at Sutton Grange after spending three years as foreman for Robbie Laing and a further three years as foreman to Andrew Noblet. In 2019, Matty moved from being Woodside's Pre-Training Manager to the lead role of raising and preparing the yearlings at the stud's northern residence of Morningside in Nagambie. Acutely aware of racehorse trainer's desires when buying yearlings, Matty is able to implement a tailored sale preparation for each yearling to get the optimum results for all parties.
BEN GUNN
Stud Manager
BEN GUNN
Stud Manager
Ben joined Woodside in 2017 after a decade long career with globally renowned Godolphin in both the United Kingdom and Australia.  Ben's extensive experience, led him to become an excellent manager of stallions and gave him a strong, well rounded understanding of thoroughbred breeding. He came into the business as Stallion Manager and soon became a key part of the leadership team. In his role as Stud Manager of the Tylden farm he continues to be responsible for our roster of leading stallions, the management of our mares, foals and all breeding related activities.
TOM ROWSTHORN
Manager Commercial & Nominations
TOM ROWSTHORN
Manager Commercial & Nominations
Tom joined Woodside in 2017 and was originally based at the Seymour farm however moved into a Stallion Nominations and Sales role in early 2018.  He is passionate about the thoroughbred industry and is in the process of completing a Bachelor's Degree in Business.  His role sees him working closely with James Price and assisting him with the securing of stallion nominations and the purchase and sale of bloodstock.
EMILY EADON
Office and Accounts Manager
EMILY EADON
Office and Accounts Manager
Emily has been with Woodside since 2015.  Managing all administrative aspects of bloodstock related activities, Emily is across the movement and progress of all horses on our two breeding farms. She has become an integral part of the team and is extremely knowledgeable on our horses' life journey, from conception through to their racing career and beyond.